Farmers are among the professionals closest to Mother Nature and the environment. Hence, it is only natural for them to be concerned about the preservation of the environment. To enable farmers who wish to go carbon neutral with their farming operations, Soletrac has launched its new electric tractor.
The battery-powered tractor, known as the e70N, sells for $75,000. Booking requires a refundable $1,000 deposit, and delivery will start next year.
The e70N is a 4WD tractor that produces 70 hp and is capable of more intensive farm work. It lasts up to eight hours on a single charge and can even last more with an optional swappable battery. Charging takes place through a Level 2 charger on 220 VAC or a solar array. The tractor was specially designed for easy handling and maneuverability.
Soletrac, which Ideanomics owns, has delivered three of the e70N tractors to farmers through the aid of a grant provided by the Bay Area Air Quality Management District valued at half a million dollars. Three local Californian farms benefitted from the grant. They were The Mushroom Farm in Pescadero, Arroyo Lindo Vineyard in Windsor, and Old School Vineyard in Napa. The purpose of the grant is to encourage the reduction of air pollution that comes from agricultural efforts.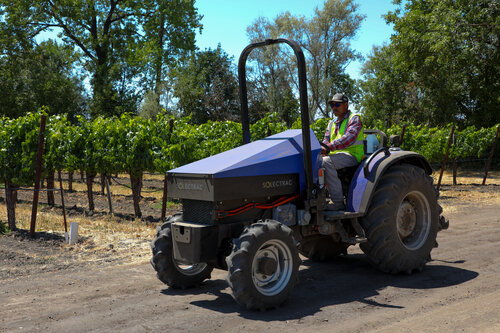 Michelle Riddle, VP of Vineyard Management for Arroyo Lindo Vineyard and Old School Vineyards said about the electric tractors, "Solectrac's electric tractors are appealing to us because they are quiet and diesel-free, so they reduce our local emissions. Part of being sustainable is creating a healthy and safe environment for the people who work here at the vineyard. An electric tractor with no exhaust and much less noise will help us do that."
Solectrac, Inc., located in Northern California, has developed 100% battery-powered, all-electric tractors for agriculture and utility operations. Solectrac tractors provide an opportunity for farmers worldwide to power their tractors by using the sun, wind, and other clean, renewable sources of energy. The company's mission is to offer farmers independence from the pollution, infrastructure, and price volatility of fossil fuels.