For many ICE drivers switching to electric cars, one of the differences they would notice first is the time taken to refuel their new car. Battery-powered vehicles take longer to charge than ICEs take to pump fuel into the tank. However, the time taken to charge has been dropping with many companies engage in EV charging R&D.
The latest outcome of such development is the Hypernova, unveiled by Wallbox at the IAA Mobility 2021 event in Germany. It promises ultrafast and long-lasting charging for public stations.
The Hypernova charger can supply up to 350 KW, faster than most public chargers available today. It uses a blend of software and hardware to optimize the delivery of power to the car.
Due to the super fast speed, the new Hypernova charger will work well for public charging stations located along highways or interstate roads. It will fully charge an electric car within the take taken for a stopover or bathroom break.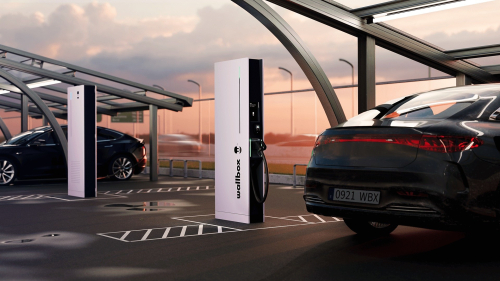 Wallbox built a management system that ensures easy handling of the cable, which is kept inside the dispenser unit. This design makes the cable durable and keeps the whole package neat and compact.
Users can be authenticated and make payments using different methods like RFID, QR code, and a credit card reader that accepts most standards.
The Hypernova will be available for delivery in the latter part of 2022.
Other products by Wallbox include another charger, the Supernova that the company will start making this year. The Supernova is also on display at the IAA Mobility show. It comes with higher durability and efficiency and requires about half of the investment other chargers typically require.
According to Enric Asuncion, CEO of Wallbox, "We're thrilled to unveil our quickest public charger so far, which might totally cost an electrical automobile in beneath 15 minutes. Hypernova will likely be a sport changer in constructing quick public charging infrastructure, particularly on highways the place drivers have to recharge and hold going."
Wallbox is a company devoted to changing the way electric vehicles charge by reducing charging times and efficiency. It is based in Barcelona and employs more than 700 workers on three continents.