More details about the Volkswagen ID.4 are here and we can't be more excited! Most interesting is that this version in the ID series is going to be the first international EV from Volkswagen, which means it will be available for purchase in the US, Europe and China.
The ID.4 is a noticeable improvement over the ID.3, being bigger in size. It features prominent curves in its design. It also does away with the fake grille, which has come to plague many EVs. Pricing starts from £37,800, with first deliveries slated for March.
The ID is going to offer several options on the drivetrain, which means you can choose based on different configurations of battery size, range and performance. However, Volkswagen is initially releasing the 1st Edition model. This model will go 310 miles on a charge. It will charge at a top rate of 125 kW and get up to 80% under 30 minutes.
Draining that battery is an electric motor that is rated 201bhp and can push you up to 99mph, letting you achieve 0-62 mph in 8.5 seconds.
The interior follows the minimalist ethos. Prominently, it doesn't come with a gear lever, leaving you to turn a knob next to the driver's display, similar to the BMW i3 hatchback. You will also make do with virtual buttons, although you will get haptic feedback from pressing them. Or you use the voice control, which is a welcome luxury at this price range.
A nice trick is the digital instrument cluster moving as you turn the driving wheel, which means it is always visible to the driver. A second and larger center display takes both touch input and gesture control. Apple CarPlay and Android Auto come integrated.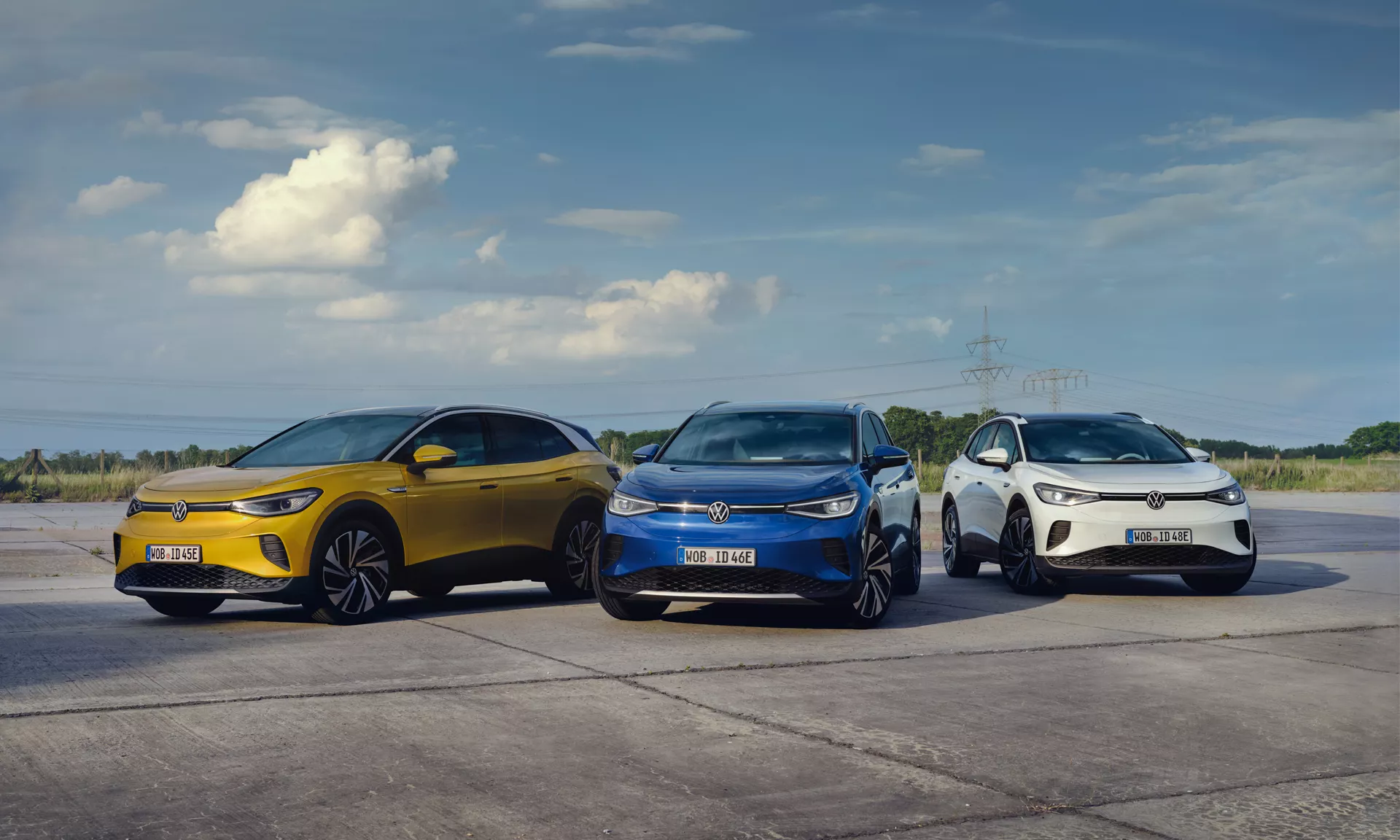 There is plenty of room here so taller riders need not worry about getting cramps on longer trips. The seats are comfy and the driver seat is adjustable, and also features messaging. The driver will be able to get a good view of the road ahead due to the level of the seat. The boot is large enough but if you need extra space for your precious cargo, you can crash down the rear seats.
Perks include a central airbag that cleverly balloons out during a crash to prevent the driver and front passenger from smashing into one another. Included also are automatic emergency braking, self-parking ability, lane-keeping assistance and adaptive cruise control. There is also the nebulously named Eco Assistance that alerts you when it is efficient to take your foot off the accelerator pedal.
Written by D.O. for www.ShargeMe.blog